Cape Town boasts a kaleidoscope of things to see and do. This includes Table Mountain's cable car, unbelievable shopping opportunities with an extremely favourable exchange rate, restaurants, bars and clubs, museums, art galleries, aquarium, theatres, movie houses, hiking and walking trails and so much more.
As the oldest city in South Africa, Cape Town is rich in culture and history. Guided and self-guided tours can be done on foot or you can catch the red Hop On, Hop Off bus that will take you around the entire peninsula, allowing you to explore the city and surrounds at your own leisure. Golden Arrow buses, the Mycitibus, minibus taxis, private cabs and Uber are also available.
On the city's doorstep you will also find Robben Island, world famous wine farms, and the beautiful Kirstenbosch Botanical Gardens which are regular winners at the Chelsea Flower Show in the UK.
Remember to bring your camera. Cape Town will not disappoint. It's colourful, kinetic, and it seems to dance to an invisible African drum. We invite you to enjoy her diverse rhythms and her eclectic vibe. There's no other city quite like her. She's a very special lady.
"During the many years of incarceration on Robben Island, we often looked across Table Mountain at its magnificent silhouette … To us on Robben Island, Table Mountain was a beacon of hope. It represented the mainland to which we knew we would one day return."
– Former President Nelson Mandela –
Useful links
Cape Town Official Tourism Website http://www.capetown.travel/
Table Mountain Cable Way http://www.tablemountain.net/
Myciti Bus http://myciti.org.za/en/home/
Green Point Urban Park & Biodiversity Garden http://www.capetown.gov.za/en/CapeTownStadium3/Pages/Greenpoint-park.aspx
Buitengracht Pedestrian Bridge http://www.specifile.co.za/specifier/news-now/942-steel-awards-2011–all-the-winners
V&A Waterfront http://www.waterfront.co.za/
Robben Island http://www.robben-island.org.za/
Kirstenbosch Botanical Gardens http://www.sanbi.org/gardens/kirstenbosch
Constantia Wine Route (20 minutes from city) http://constantiawineroute.com/
Western Cape Wine Routes http://www.sa-venues.com/west_cape_winelands.htm
Discover Cape Town on the Hop On, Hop Off Bus https://www.citysightseeing.co.za/cape-town
CAPE TOWN TOURS
For all Tour bookings, please contact Kim Maneveldt on kim@imfunzelelo.co.za
Street Art & Graffiti Tour
2 hours 30min | FEE ZAR 350
Can street art be the medium between creating beautiful things, beautiful spaces as well as bridging the visible divides within the City?
Cape Town has fast become well know for this resilient art form that has evolved over the years with significant pieces spread throughout the urban area.
Some of the best displays from renowned local and international artists are found in the vibrant restored suburb of Woodstock.
For many the recent revamp of Woodstock has been anxiously welcomed, however the rapid rising cost of living has largely impacted the tightly knit residence of the area.
The Woodstock Street Art Tour teaches us how graffiti art does not merely act, as embellishment for the areas buildings but is also a way to bring positive socio-economical changes within the community.
Quick Facts: Departs daily weather depedant | Ends 17h00 | Duration ±3 hrs | Excludes lunch.
Cape Peninsula Tour
FULL DAY | FEE ZAR 935
Hout Bay, ½ hr Duiker Island boat trip (optional, for own account & time permitting), Chapman's Peak (if open), Cape Point Nature Reserve, Cape Point. Return to Cape Town via Penguins (optional, for own account), Simon's Town, Fish Hoek, Muizenberg and Kirstenbosch Botanical Gardens.
Quick Facts: Departs daily 09h00 | Ends 17h00 | Duration ±8 hrs | Excludes lunch.
Great White Shark Cage Diving
FULL DAY | FEE ZAR 2325
Travel to Gansbaai, enjoy light breakfast then proceed to Dyer Island. Surface view or cage dive this magnificent predator in its natural feeding ground.
Quick Facts: Departs daily 06h00 | Ends 17h00 | Duration ±11hrs | Includes light breakfast | Weather and sea conditions permitting.
Cape Point Cycle and Winelands Adventure
FULL DAY | FEE ZAR 1440
This is a perfect way to combine some moderate physical activity with seeing the sights around the Cape Peninsula. Enjoy a peaceful cycle through the unique fynbos vegetation of the Cape Point Nature Reserve, visit the breeding colony of rare African Penguins at Boulders Beach and relax at a scenic picnic lunch spot. Before returning to Cape Town you tour the historic Constantia Winelands, which includes wine tastings at two premier estates.
Quick Facts: Departs Daily ±09h45 | Ends ±17h00 | Duration ±7¼ hrs | Includes return transfers from CTICC, front suspension mountain bikes, helmets, water bottles, expert guide entrance fees to Boulders Beach and Cape Point Nature Reserve, picnic lunch, 2 wine tastings | Wear comfortable walking shoes and clothes; bring light jacket, hat, sunscreen, sunglasses and camera | Note – Weather permitting.
Aquila Wildlife Safari Tour
FULL DAY | FEE ZAR 2926
Travel to Aquila Private Game Reserve. Open vehicle game drive with opportunity to view giraffe, lion, leopard, zebra, rhino, wildebeest and many other types of wildlife.
Quick Facts: Departs daily 06h00 – pick up is from your hotel, please be ready from 05h30 | Ends 18h00 | Duration ±12 hrs | Includes lunch
Winelands Tour
FULL DAY | FEE ZAR 935
Travel to Paarl, Franschhoek & Stellenbosch. Cellar tour, 3 wine tastings. City tour of Stellenbosch. Return to Cape Town.
Quick Facts: Departs daily 09h00 | Ends 17h00 | Duration ±8 hrs | Excludes lunch.
Cape Highlights Tour
FULL DAY | FEE ZAR 1250
Highlights of Cape Peninsula including Cape Point Nature Reserve and the Cape Winelands with a wine tasting in Stellenbosch. Return to Cape Town.
Quick Facts: Departs daily 08h00 | Ends 17h00 | Duration ±9 hrs | Excludes lunch | Tour might include a trip back to Cape Town to collect additional guests for 2nd half of tour. Tour may be operated in reverse.
Table Mountain & City Tour
HALF DAY | FEE ZAR 462
Travel by cable car to top of Table Mountain (excludes cableway ticket fee & weather permitting) then descend and pass through Cape Malay Quarter, city centre and Company Gardens. Visit the Castle of Good Hope (time permitting) and Diamond Works. Travel to Milnerton area and photograph Table Mountain from across Table Bay (time permitting).
Quick Facts: Departs 2 x daily 08h00 or 13h00 | Ends 12h30 or 17h30 | Duration ±4 hrs | Excludes cableway ticket fee.
Winelands Tour
HALF DAY | FEE ZAR 682
Travel to the Winelands. Tour through historic Stellenbosch. 1 wine tasting. A second wine tasting will be included (time permitting), before returning to Cape Town.
Quick Facts: Departs daily 14h00 | Ends 17h00 | Duration ±3 hrs
Township Cultural Tour
HALF DAY | FEE ZAR 578
Visit Bo-Kaap Malay Quarter. Drive through District Six and then to Langa, the oldest township. Tour continues to Khayelitsha, the largest black township in Cape Town. Here we visit the Philanni Empowerment Centre, visit to a shack to experience the living conditions and a drive through middle-class Khayelitsha to experience some of the recent achievements such as new house developments.
Quick Facts: Departs Mon – Fri 09h00 | Ends 12h30 | Departs Mon – Fri 13h30 | Ends 17h00 | Departs Sat/Sun & P. Holidays 09h00 | Ends 12h30 | Duration 3½ hrs.
Authentic Cape Malay Cultural Experience
HALF DAY| FEE ZAR 1293
Enjoy a unique interaction and experience the cultural diversity of the Cape Malay community, descendants of the original Malay slaves. We start at the Bo-Kaap Museum in the heart of the Cape Malay Quarter where you learn more about their history and the preservation of their traditions in Africa. Your story-telling host will then guide you on an entertaining walking tour giving you insights into the historical and architectural landscape that adds so much colour and character to Cape Town's City Bowl. You'll visit a friendly spice shop and discover the aromatic ingredients of local dishes. The highlight of this experience is enjoying an authentic home-cooked dinner at the gracious home of your host family.
Quick Facts: Departs Monday to Friday, excluding public and religious holidays 15h30 | Ends 19h30 | Duration ± 4 hrs | Includes return transfers from Cape Town city centre, Green Point and Sea Point, Bo-Kaap Museum entry fees, walking tour through the Bo-Kaap, traditional welcome drink and traditional 3-course dinner | Excludes own purchases such as spices, gifts and curios | Note – You are visiting a traditionally religious community and out of respect need to wear appropriate clothing. Guests are asked not to wear mini skirts and other revealing attire, and to avoid bare shoulders. Do wear comfortable walking shoes.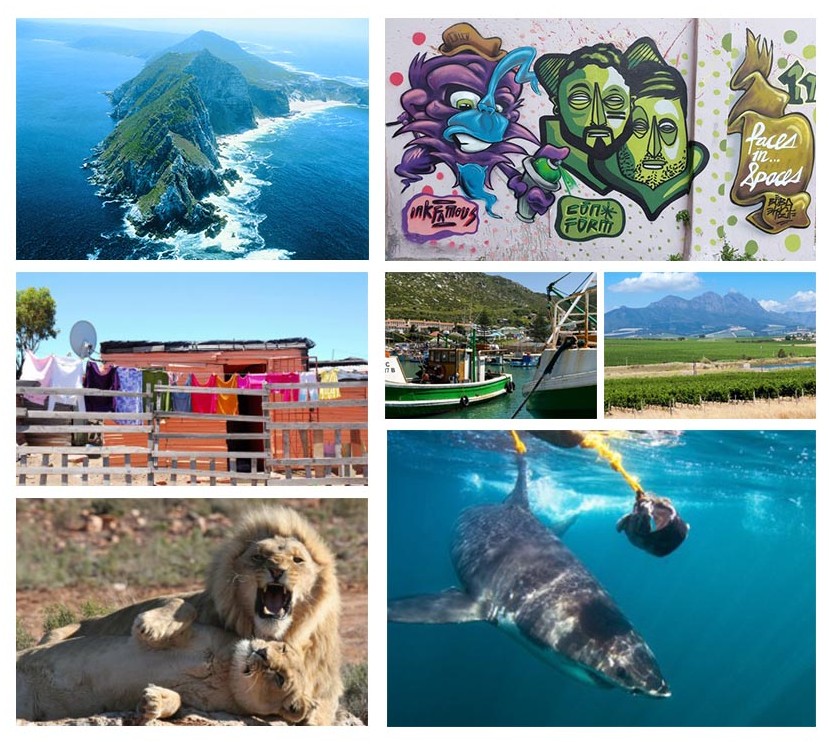 ---
For more information about restaurants, must see's and do's, please look at our suggestions here.