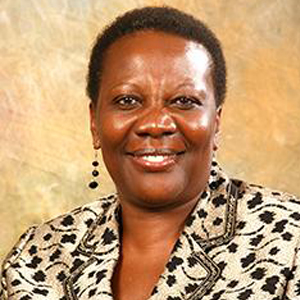 Honourable Irene Margaret Nafuna-Muloni,Minister of Energy & Mineral Development of the Republic of Uganda
Affiliation/institution: Minister of Energy & Mineral Development, Ministry of Energy & Mineral Development, Uganda
Biography: Min. Irene Margaret Nafuna Muloni graduated with an Honors degree in Electrical Engineering from Makerere University, Kampala, in 1986 and holds an MBA degree from Capella University, Minneapolis, Minnesota, USA (2004). She is a Corporate Member of the Uganda Institution of Professional Engineers, a Certified Public-Private-Partnership Specialist, and a Professional Balanced Scorecard Practitioner. She was the Winner of the "Sarah Ntiiro Award" 2003; a recognition as a "Model of excellence" by the Forum for Africa Women Educationists (FAWE).
She is an advocate for gender equality, women's empowerment and utilisation of science and technology for sustainable development. Since graduation, Irene has been gainfully employed in Leadership and Management responsibilities in the energy sector for the last 25 years and the telecommunications sector for 5 years.
On a part-time basis, she serves as the Chairperson of the Board of Directors for Finance Trust Bank, the 1st Women's Bank in Uganda. Previously she served as a Board Member on numerous Government Institutions and Non-Governmental Organisations.